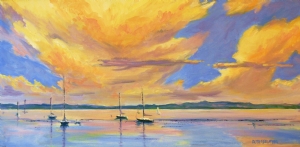 TEQUILA SUNSET
Oil
on Canvas
12 x 24
Michigan skys make splendiferous (I know that's not a word) sunsets!!!!!!!
There on the bay with the boats at rest, it just blew me away. for the umpteenth time.
The Great Lakes allow us to have the "big sky view" and that is what I wanted to show in this painting.
So relax and enjoy the view!
Diane Tasselmyer
~click below to see my paintings~
thanks for looking!